18 ways to wear the most versatile piece in your wardrobe.
Like casting your first vote or drinking your first beer, picking out your first navy blazer is a rite of passage. Originally cut loosely from hopsack wool to fit like a "sack," navy blazers were traditionally associated with New England preps. Today you'd be hard pressed to find an American man who doesn't own a navy blazer. And while the cuts and fabrics have seen changes and new iterations over the years, the spirit of the piece remains the same: versatility meets an enduring style. Here are twelve ways to style your navy blazer.
1. With Khakis and a Dress Shirt (The Original)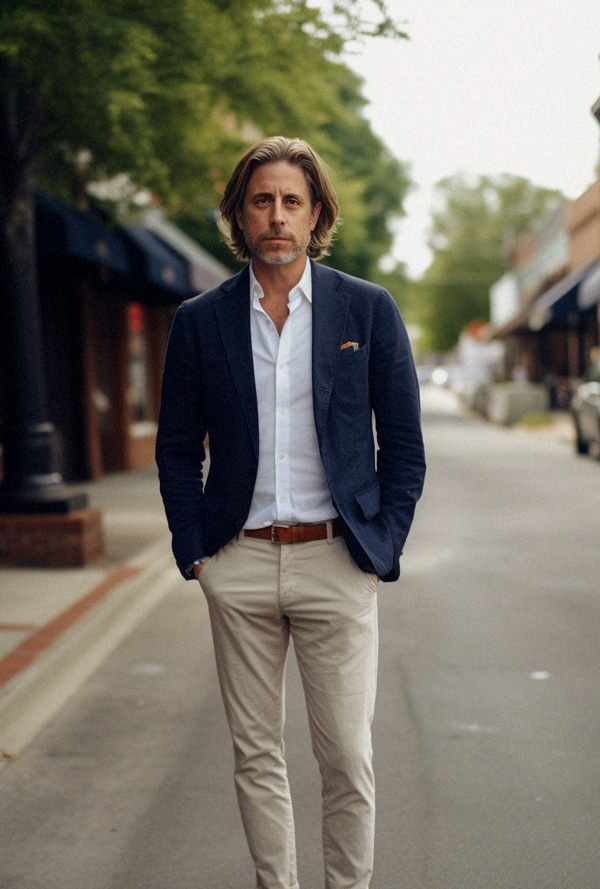 A tailored cut makes this a modern take on the original navy blazer. Pair your blazer with chinos and a solid shirt and, if needed, dress it up with a tie. Top it off with a pair of loafers, and oh my, you look clean.
2. With Gray Dress Pants
The navy blazer with gray pants is not only classic; it's about as versatile as you can get. Lightweight, wool gray pants with a slim (not skinny) fit work as well in the boardroom as they do in the bar room. Throw in a crisp, white shirt, and you're set. Need to make things a little more formal? Throw on a tie.
3. With Denim and a Tie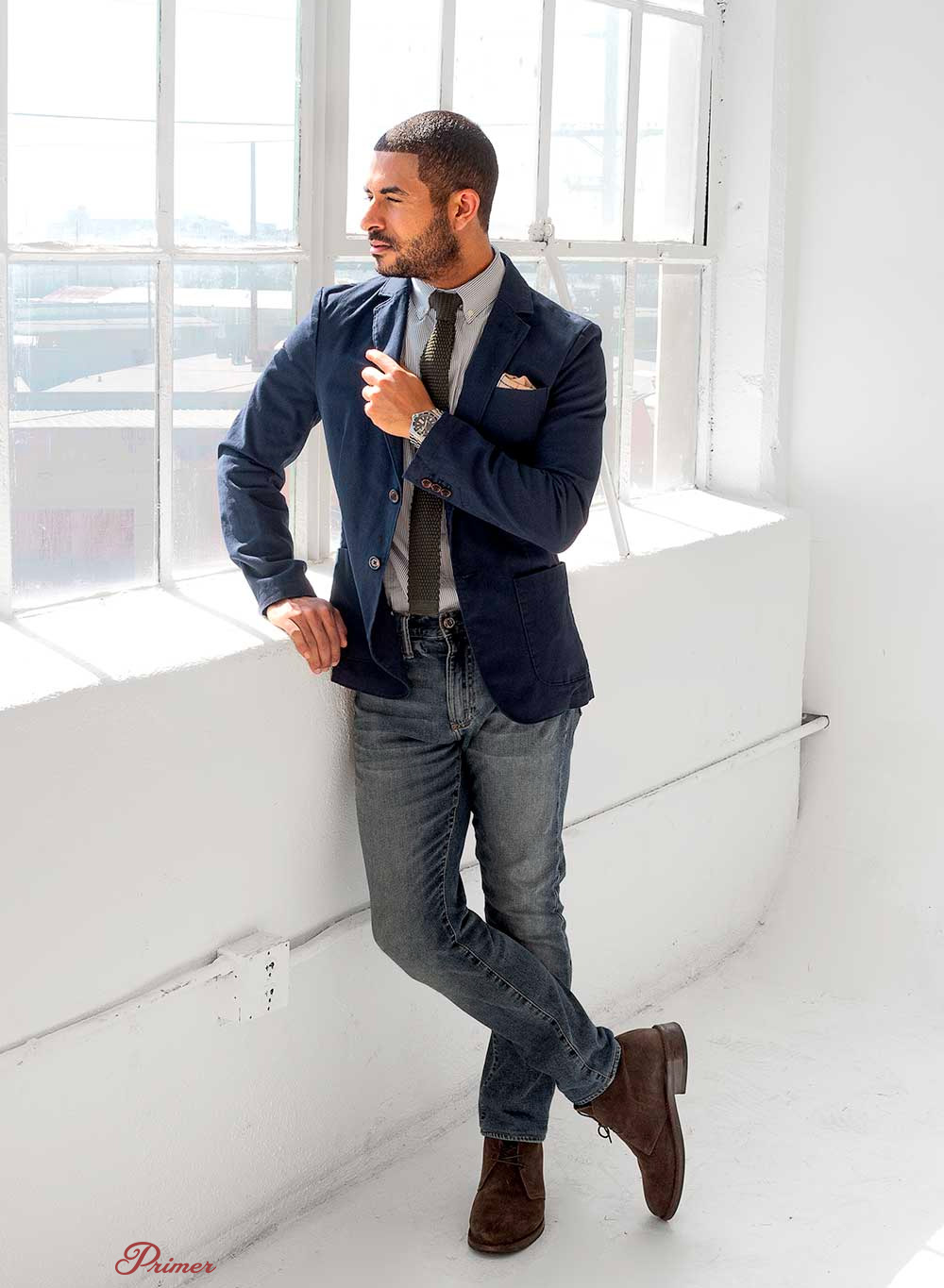 No, a blazer with jeans is not too much blue. Throw on a shirt with a button-down collar (to keep things looking smooth and controlled), and you've got the perfect outfit for a casual Friday or date night.
4. With Patterned Trousers
Patterns don't just have to be for shirts and ties: Counterbalance a top half made of solids with a pair of classy patterned trousers.
5. Over a Sweater
Wearing a sweater under your navy blazer is the go-to look for fall. Keep the sweater thin so it doesn't hinder your movement or get too hot.
6. With Olive Chinos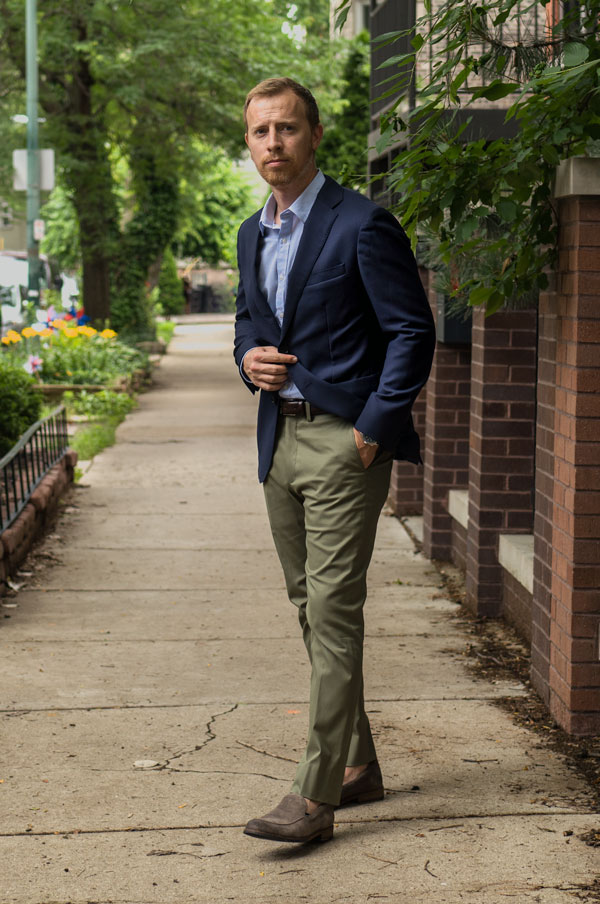 Embrace this refined twist on the classic navy blazer and chinos combination to inject a touch of personality and style into your business casual attire. The olive shade provides a nice contrast to the navy, adding depth and color contrast to the overall look. This outfit is the perfect base for a range of settings, including work, dinner parties, or weekend events, making it a valuable addition to any modern gentleman's wardrobe.
7. Over a Hoodie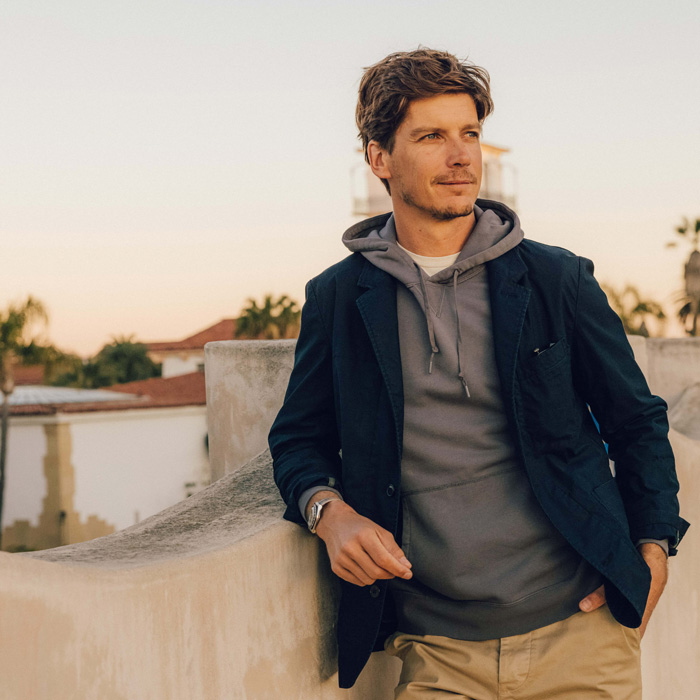 Calling all preps: This look is perfect for a summer evening. Effortlessly elevate your athleisure attire and make the most out of your navy blazer by layering it over a hoodie. This unexpected pairing is a fresh way to showcase your personal style and bring a preppy touch to your casual wear. This outfit works for weekend outings, casual workspaces, or a night out with friends.
8. Double-breasted, With White Pants
A double-breasted blazer sets a man apart. White pants set a man apart. So why not put them together? White pants have an implied casual feel, without leaving you underdressed. Wear this look to a summer wedding; just don't upstage the groom.
9. Dressed Down with White Jeans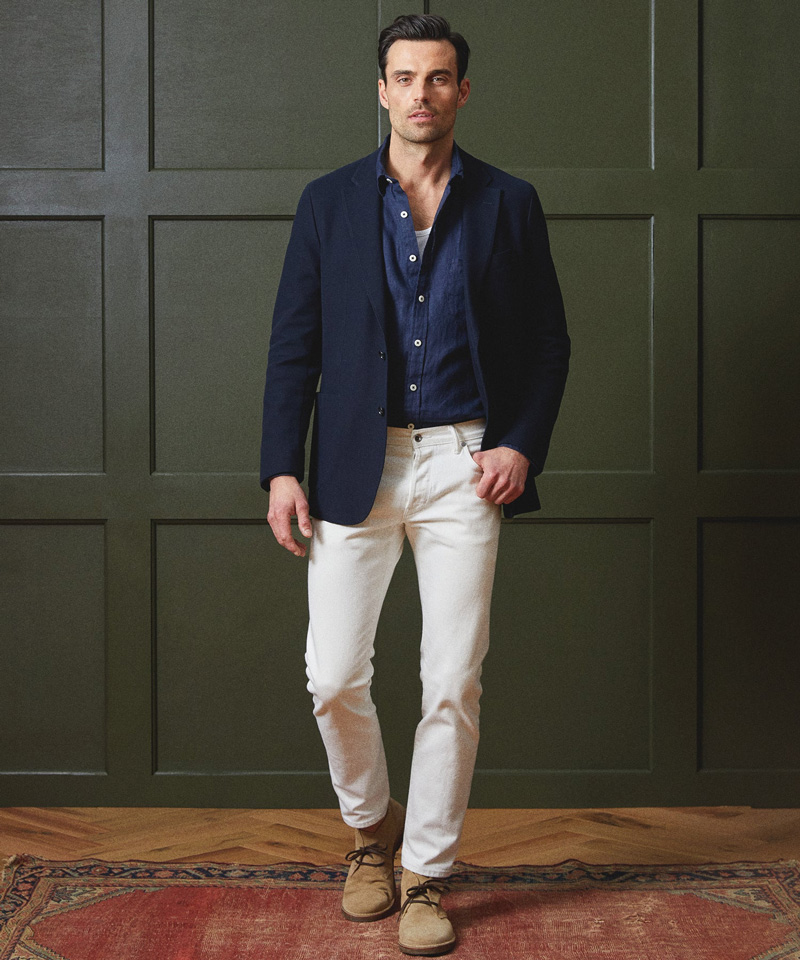 White jeans are a summer wardrobe staple, and when paired with a navy blazer, they make for a stylish and sophisticated look that's perfect for both daytime and evening events. The contrast between the dark blazer and the crisp white jeans creates a fresh and modern appearance. Complete the look with chukkas, loafers or minimalist sneakers. This combination is ideal for casual summer parties, brunches, or even a weekend getaway.
10. Light Wash Jeans, Striped Shirt, and Casual Accessories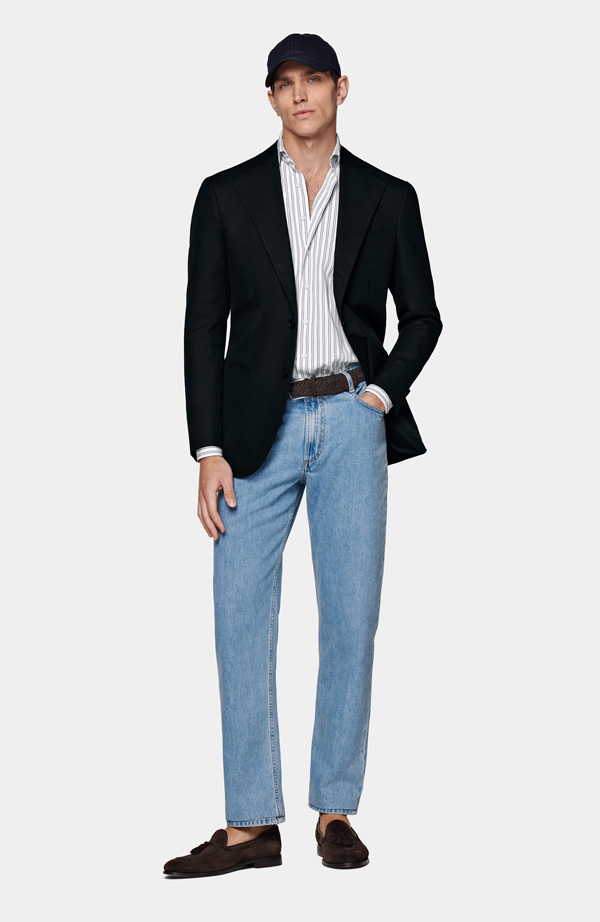 Pairing your navy blazer with light wash jeans creates a fresh, relaxed look that's perfect for a weekend outing or a casual gathering. The combination of lighter denim and the classic navy blazer brings an effortless style that's both comfortable and put-together. A striped shirt adds a touch of pattern and interest to the outfit, while the dark plain ball cap keeps the sun off your face and further emphasizes the out-of-office attitude.
Complete the style with a braided leather belt and suede loafers for added texture and relaxed vibe. This outfit strikes the perfect balance between casual and dressy, making it an easy choice for various occasions like wedding showers, work retreat functions, and an extra on Succession.
11. Over a Polo
When the invite to the company picnic says, "business casual," this is what they mean. The polo is comfortable, classic, and looks stellar under a navy blazer. Just make sure the fabric of the polo is a heavy gauge. You don't want to high beam your CEO.
12. Smart Casual with Grey Twill Pants and White OCBD Shirt
The perfect ensemble for a smart casual affair, this outfit combines the elegance of a navy blazer with the comfort of grey twill pants. The white OCBD shirt, an enduring wardrobe staple, remains one of our favorite men's shirts as it creates a clean and polished appearance while still being less formal than a dress shirt.
For footwear, consider loafers, brogues, or suede desert boots to complete the outfit and maintain the perfect balance between dressed-up and relaxed. Whether you're attending a networking event, a gallery opening, or just enjoying a night out, this ensemble is a surefire way to make a lasting impression.
13. Over a T-shirt
Any nice t-shirt will do, though we recommend going with classic white or a horizontal stripe (in navy, gray, or red). The t-shirt under the navy blazer is casual; it's easy-going; it's just something you threw on. But as understated as it is, it still looks more refined than just a t-shirt and jeans.
14. Navy Blazer with Tan Jeans & Sneakers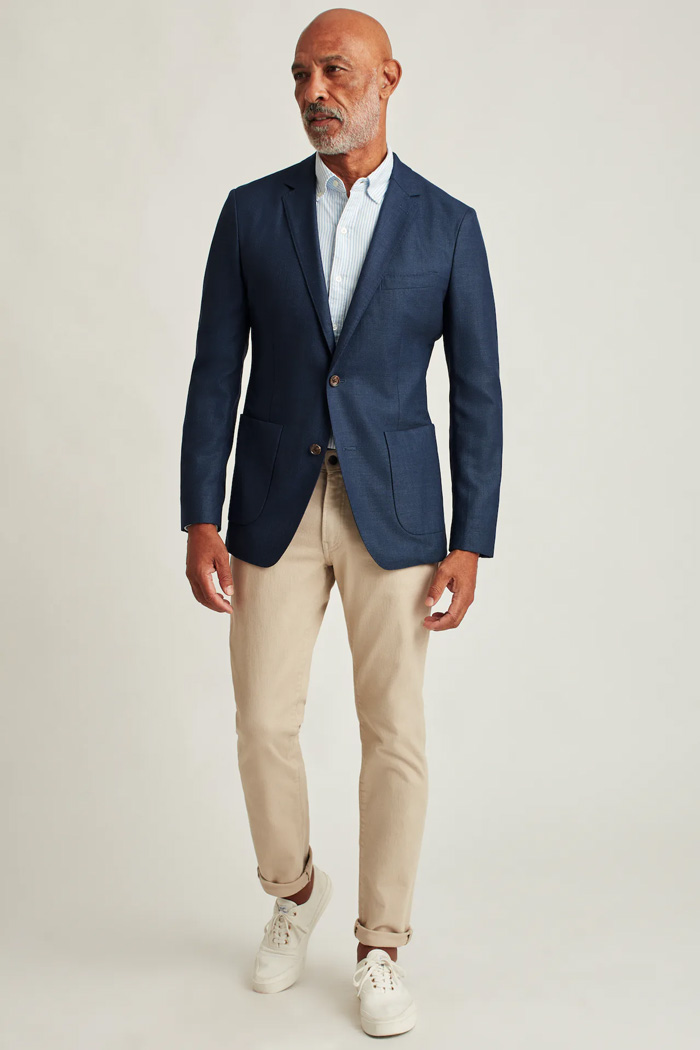 The modern task is all about finding the perfect balance between style and comfort. For a modern spin on the classic navy blazer and khakis business casual Getup, pair your navy blazer with tan jeans and sneakers.
Opt for slim fit tan jeans to create a sleek silhouette, and choose a pair of minimalist sneakers in a neutral color like white or gray to keep the focus on the blazer. It's an excellent choice for those who want to appear polished and stylish without sacrificing comfort. The navy blazer with tan jeans and sneakers is a fresh take on a classic, providing a versatile and modern option for the fashion-savvy man.
15. With a Green Check Shirt & Charcoal Denim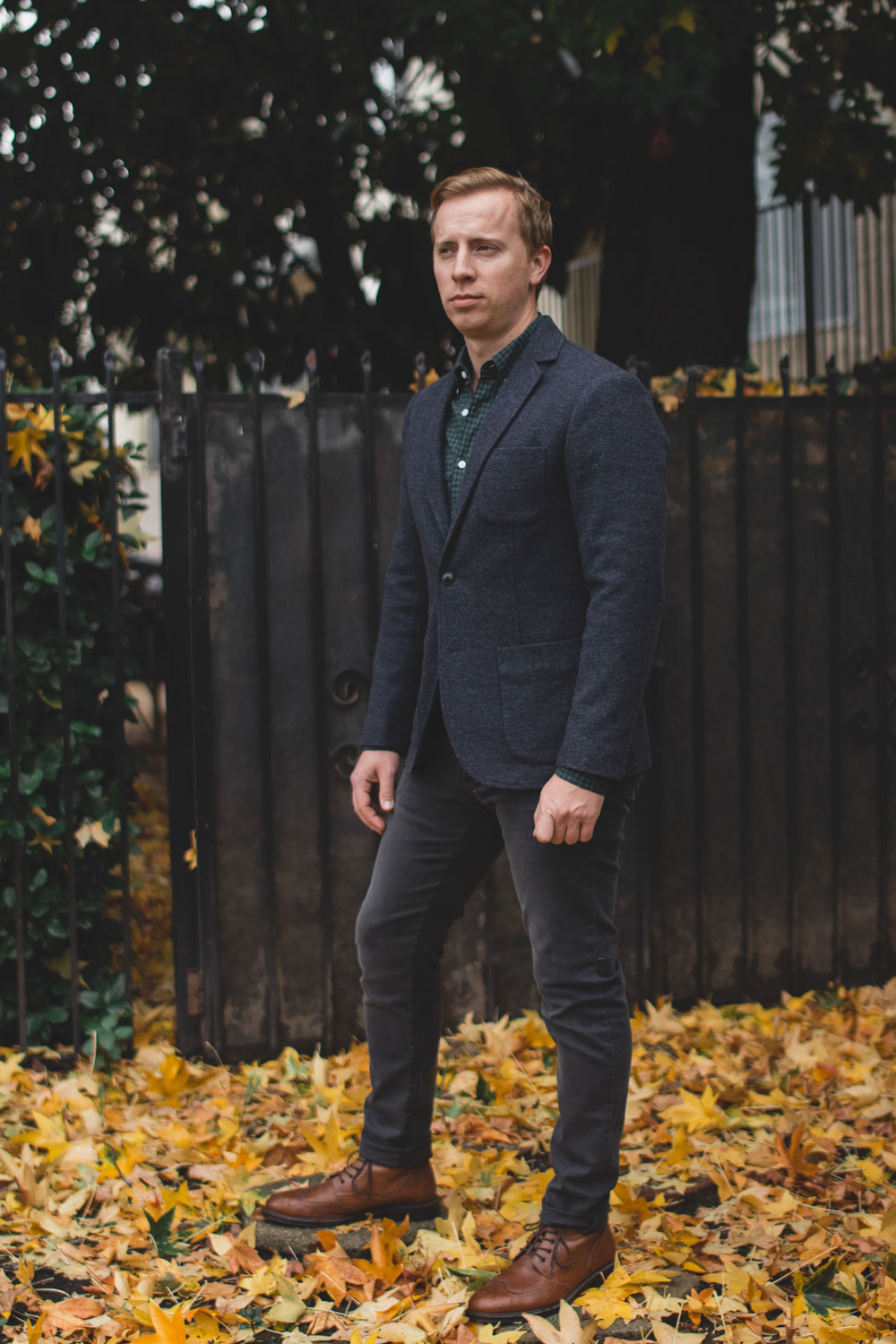 Embrace a rugged aesthetic that is the antithesis of the New England preppy original by pairing a heavier navy blazer with a green check shirt, charcoal jeans, and brown brogues. This combination creates a look that is put-together yet not overly formal, perfect for those seeking a distinctive and stylish outfit with an edge. This Getup is smart for a night out, a date, or even a creative work environment where you want to make an impression.
16. With a Chambray Shirt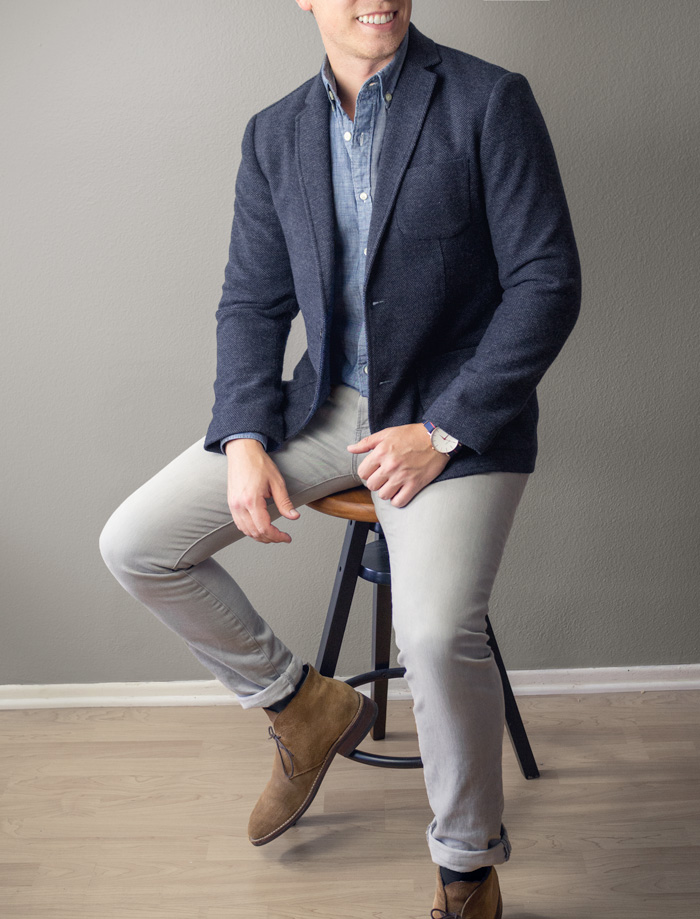 This striking trio is perfect for occasions where you want to make an impression without feeling overdressed. The chambray shirt takes center stage with its casual, almost-denim charm and soft, textured fabric. The subtle shade difference from the navy sportcoat adds depth and nuance to the overall look, making it easy to confidently ditch the tie without sacrificing style.
17. With a Floral Shirt
If you're scared you'll look like your dad circa 1982, mix up the navy blazer by pairing it with a floral shirt for a playful take on the essential menswear classic.
18. With Earth Tones
If your style is more rugged than nautical, bring your blazer to shore by wearing it with earth tones like these brown twill pants, gray check shirt, and suede oxfords.
A Few Navy Blazers to Consider