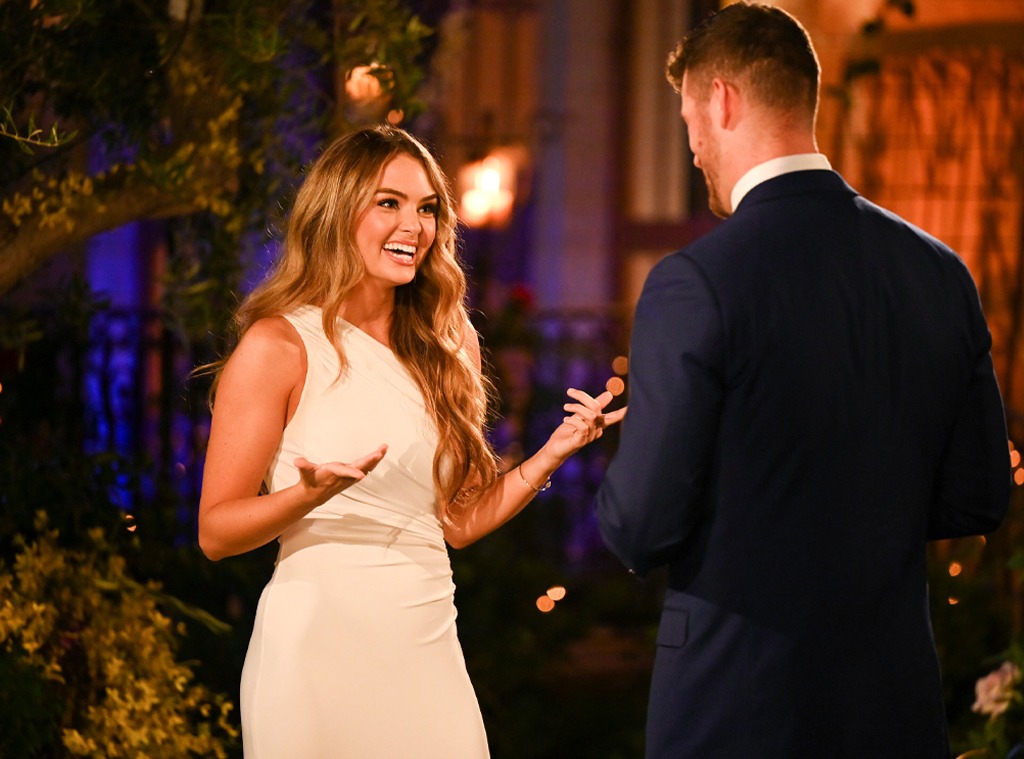 ABC/John Fleenor
We included this product chosen by Susie Evans because we think you'll like her pick at this price. E! has affiliate relationships, so we may get a commission if you purchase something through our links. Items are sold by the retailer, not E!. Prices are accurate as of publish time.
The members Bachelor Nation are rooting for Susie Evans to find happiness, especially after the most recent episode (but I won't spoil it if you're not caught up yet). This might actually be "the most dramatic" season yet. Nevertheless, Susie has handled difficult situations with poise and kindness. Susie has been a radiant presence on our TV screens since the first episode of the season.
In case you were wondering, The Bachelor contestants do their own makeup on the show. Recently, a viewer asked Susie about the foundation she uses, and the product is incredibly affordable. I'm talking $3. Nope, that's not a typo. She has been using a $3 product for years and she's not the only one who's a fan. It has 9,900+ 5-star Amazon reviews.
In response to a recent Instagram post, a fan asked, "Is there a certain foundation you use? Your skin is gloooowin." That's when Susie shared her go-to product, writing, "Yesss it's actually so cheap but I love it.! Wet n Wild Photo Focus- they have a dewy and a matte. I alternate or use both."
Susie added, "I'm almost embarrassed to admit it's what I use but I swear it's so good." There's nothing at-all "embarrassing" about an affordable find, Susie. Thank you for the intel, that's gonna be an immediate "add to cart" for a lot of us.
Instagram
Wet n Wild Photo Focus Foundation
According to Wet n Wild, this matte foundation was "tested under seven different photo lighting conditions to deliver flawless camera-ready makeup every time," which makes it a great choice for reality TV and social media in addition to real life, of course. The formula has a "light-adjusting" complex that prevents the ever-dreaded white cast in photos. It has buildable coverage, so you can customize the application to your preferences.
Wet n Wild Photo Focus Dewy Foundation
The dewy version has those same camera-friendly properties, but this one has a more luminous tint to it.
Susie isn't the only one adores this foundation. It has 9,900+ 5-star Amazon reviews. Check out what these customers had to say about it.
One called it "a filter for your face in real life!"
Another said, "This foundation performs like a high end foundation. I would compare it to Estée Lauder's double wear foundation which is like $45. I am 38, so my skin is starting to show some fine lines and hydration & moisture are my friends! This foundation is perfect for that. I also have large pores, and it works perfectly."
A fan of the product shared, "New Holy Grail Drug store Foundation!!!"
Someone else shared, "Great for ALL day wear and even sweating. I LOVE this foundation. I have really bad patches of red on my face and so this is the perfect Foundation to give me full coverage."
"This is an amazing foundation for oily skin. It seriously stays matte and in place for 12 hours with no shine breakthrough, which I've never achieved with any other foundation (including EL Double Wear that is 8 times more expensive)," a shopper wrote.
A makeup artist shared, "I'm a high end makeup girl and a makeup artist on the side and work in dialysis during the day but I have seen so much buzz about this in the beauty community and so I tried it..... totally love it to death! Totally comparable to the makeup forever hd foundation. I have combo oily skin and very acne prone but this doesn't give me any problems at all."
Want the latest and greatest deals and celebrity must-haves delivered straight to your inbox? Sign up for the Shop With E! newsletter!